Reasons why your choice of Agent should be Flint & Cook.
The Internet
The internet is the most powerful tool available to an Agent for promoting property. In 1996 Flint & Cook launched their first website. Our latest site is state-of-the-art with a responsive format geared towards today's ipad, tablet and other mobile device users. Our latest 'user friendly' website provides the Herefordshire buying audience with access to our complete stock of properties 24/7. We also have a strong presence on Facebook & Instagram where our properties are listed to promote interest.
Top Hereford Estate Agent
In recent years Flint & Cook have regularly been at the top of the new listings table compiled by the main property Portals.
Rightmove statistics show in 2020 we sold more properties than any other agent.
Why compromise when you are dealing with the biggest asset of your life?
Instruct the best Estate Agent to act on your behalf, Flint & Cook.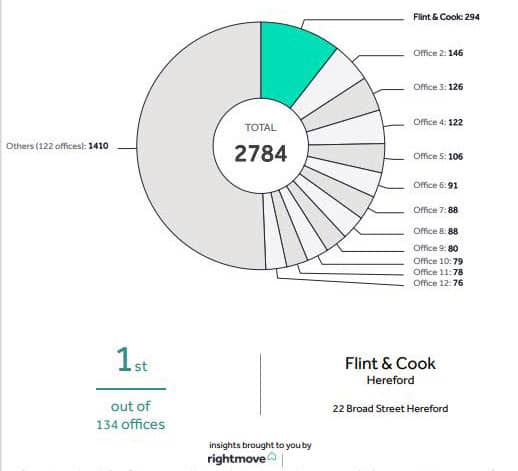 SMS and Email
We have hundreds of buyers signed up to our Mailing List and fresh buyers are added daily. This audience of would-be purchasers are keen to see properties of all types as soon as they hit the market.
Flint & Cook send out texts to applicants as a friendly reminder prior to their viewing appointment, and we always make a follow-up call to obtain feedback information for our vendors, who are kept fully up to date on the marketing of their property.
Floorplans
Does every Estate Agent produce floorplans? The answer is NO! Flint & Cook provide floorplans for every property we market, and yet some agents don't produce them and some make a charge for doing so.
We find that almost every buyer who collects sale particulars from our office or who views a property on our website will flick from the main photograph to the floorplan. This provides key information to the buyer at one glance, such as central hallways, relationship of one room to another, window aspects, extent of bathroom and kitchen fitments, etc. Our floorplans are coloured, detailed and provide an overall area (square feet) allowing applicants to compare one property with another.
Photography
We are massive believers that photography is vital to a successful marketing campaign. We take pride in getting this right and go the extra mile to get good results. We often use a professional photographer, elevated camera pole shots and a drone.
Our promise
Flint & Cook provide the highest standards of quality and integrity in all our residential property services. We have achieved a reputation for professionalism in everything we do, and continually strive to exceed our clients' expectations as we have done for 25 years and will continue to do so for many years to come without compromising our beliefs.
We are regulated by the Property Mark and adhere to the Code of Conduct of the National Association of Estate Agents.
Personal Service
Despite our embracing of technology and the use of The Internet, Social Media etc to promote our properties, we are still very traditional and believe that our clients benefit from personal contact with our highly experienced and trained staff. Technology supplements this but cannot replace personal service throughout the whole process of buying, selling or letting.
Bespoke Service
One of our key strengths is that we handle such a wide variety of properties and we recognise that 'one size does not fit all'. Therefore, we treat every property individually and tailor our service accordingly.
Investing in our County
We have never lost the sight of the fact that Herefordshire has provided us with our living and we are grateful to the people and businesses who have supported us in our wonderful County. Therefore, over the past 25 years we have sponsored a whole variety of local causes, events and teams and remain proud to have been able to do this.
Accompanied Viewings
Over 75% of all our viewing appointments are accompanied by an experienced member of our staff. This percentage is significantly above average, and we are convinced that such a strategy plays a big part of our success and why we are one of the most successful and well-respected agents in Herefordshire.
Many agents promise this service yet don't have the staff to fulfil the commitment.
Fees & Charges
We will be transparent and our mantra is to offer the highest possible level of service for a fair fee. We may not be the cheapest agent (for sales or lettings) but we strongly believe that 'you get what you pay for' and we offer excellent value for money.